Let yourself be seduced by the pleasant Sorrento Peninsula and by the panoramic hairpin turns of the Amalfi Coast. Let your eyes dive into the deep blue of the sea, where the mermaids used to live. Take a walk through the fashionable and picturesque pathways of the most beautiful village of Italy. Discover new itineraries deep in the green in an unusual and enjoyable way, on board a vintage Vespa or a Fiat, accompanied by a native, professional, friendly guide; they will make your experience a memorable one.
You will start your tour enjoying the view from the terrace of Villa Comunale in Sorrento, admiring the entire Gulf of Naples dominated by Mount Vesuvius. From Sorrento you will continue the tour towards Positano, riding through the wonderful hairpin turns of the Amalfi Coast. Along the way, you will stop at a little terrace for taking pictures of the breathtaking view and you will find about the little island of Li Galli where, according to a mysterious legend, the mermaids were turned into stone.
When you are in Positano, you will start with taking a pleasant walk by the boutiques and the typical local shops, then you will get to the seaside and admire the colourful little village nestled in the mountain, of which there is no equal in the world. You can take a coffee break, relax and taste the famous Delizia cake, filled with lemon cream, together with your espresso.
Further on, you will admire the panorama at Sant'Agata sui due Golfi, and at Colli delle Fontanelle. Then you will reach the village of Nerano and the Marina del Cantone, with its scenographic seaside. Later on, you will stop by Termini, the last village of the Peninsula, in front of the renowned Capri Island. You will have access to a workshop where they will tell you about the secrets of the famous Limoncello liquor and you will be able to taste it at ease.
An exciting 30 minutes' walk (accessible to all) will take you on top of Mount San Costanzo where you will enjoy the stateliness of the landscape. You will enjoy the panorama at the terrace of Annunziata before getting to the picturesque Marina della Lobra, in a typical Italian atmosphere. Last stop will be at Capo di Sorrento for a lunch break, tasting the typical Mediterranean cuisine at the amazing Relais Regina Giovanna, surrounded by 20 hectares of Mediterranean nature, among olive trees, citrus groves and an organic vegetable garden. On your way back to Sorrento, you will realize that you have had the best day of your vacation.
What is included:
tour guide
tasting of Neapolitan espresso coffee, Lemon Cake
access to Limoncello laboratory and liqueur tasting
mediterranean lunch at the exclusive Relais Regina Giovanna
walk in the organic garden, olive grove and orchard
helmet with disposable hygienic liner
a present from NapolinVespa Tour with local Neapolitan handicrafts
Only for Young, Sorrento Penisula and Positano Tour is available with 35 euro discount.
Obtain this discount coupon it is very simple:  you need  350 credits, that you can buy for only 11.47€.  For more information, please follow the simple instructions on the next tab.
VERSIONE ITALIANA
Lasciatevi sedurre dall'amena Penisola Sorrentina e dai tornanti scenografici della Costiera Amalfitana che giungono fino a Positano. Tuffate i vostri occhi nel blu cobalto di quel mare che un tempo ospitava le Sirene e passeggiate tra le mondane e caratteristiche viuzze del borgo più bello d'Italia. Scoprite nuovi itinerari immersi nel verde in modo originale e divertente a bordo di una Vespa o di una Fiat vintage ed in compagnia di una amichevole guida locale professionista che saprà rendere memorabile la vostra esperienza.
Inizierete affacciandovi dalla meravigliosa terrazza della Villa Comunale di Sorrento volgendo lo sguardo all'intero Golfo di Napoli dominato dal Vesuvio. Da Sorrento proseguirete verso Positano attraverso i meravigliosi e famosi tornanti della Costiera Amalfitana. Lungo il tragitto una sosta fotografica presso un balconcino dal panorama mozzafiato vi farà scoprire l'isolotto de Li Galli avvolto dalla misteriosa leggenda delle Sirene tramutate in roccia.
Giunti a Positano potrete fare una piacevole passeggiata prima tra le boutique e le tipiche botteghe locali e poi in spiaggia per ammirare il colorato paesino incastonato nella roccia ed unico al mondo. Un coffee break vi darà modo di rilassarvi e gustare la famosa Delizia al Limone accompagnata da un caffè espresso.
Attraverso i panorami di Sant'Agata sui due Golfi e i Colli delle Fontanelle raggiungerete il villaggio di Nerano e la Marina del Cantone con la sua scenografica spiaggia. A Termini, ultimo paese della Penisola, situato di fronte la rinomata isola di Capri, l'ingresso in un laboratorio sarà l'occasione per conoscere i segreti del famoso liquore Limoncello e ovviamente un assaggio sarà d'obbligo.
Un'avventurosa passeggiata di 30 minuti circa (adatta a chiunque) vi condurrà sul Monte San Costanzo per godere la maestosità dei suoi paesaggi. Vi affaccerete dalle panoramiche terrazze dell'Annunziata prima di raggiungere la splendida Conca di Marciano ed, attraverso il famoso Nastro d'oro, la caratteristica Marina della Lobra, in un'atmosfera tipicamente italiana.
Ultima tappa sarà il Capo di Sorrento con una sosta per un pranzo di tipica cucina mediterranea presso lo splendido Relais Regina Giovanna, circondato da 20 ettari di natura mediterranea con olivi, agrumeti e un orto biologico, prima di fare ritorno a Sorrento dove realizzerete di aver trascorso il giorno più bello della vostra vacanza.
Il prezzo include:
guida turistica
trasferimenti in Minivan/Aliscafo da/per Napoli
ticket d'ingresso: Grotta dello Smeraldo
sosta degustazione caffè espresso napoletano e sfogliatella/babà
pranzo di cucina Mediterranea in ristorante tipico
casco con sottocasco igienico monouso
cadeau di artigianato napoletano
esperienza orto
In esclusiva per il nostro marketlace,  Tour Napoli Panoramica, è proposto con uno sconto di 35 euro.
Il costo di questo coupon da 35 euro, cumulativo con altre promozioni attive, è di appena 350 credit.  Puoi ottenerlo seguendo le semplici indicazioni nel tab "istruzioni".
HOW TO GET THE DISCOUNT 
Simple: if you do not have 350 credits needed yet, buy it clicking on the orange button  "Acquista Coupon".  Once bought the 350 credits (only for 11,47 euro), you instantly receive the discount code both here on site and via email ( please, check the Spam folder ).
Then, all you will be doing is putting  the discount code  during the checkout on http://www.napolinvespa.it, specifying:
Offer type
name, surname
date
The Coupon Code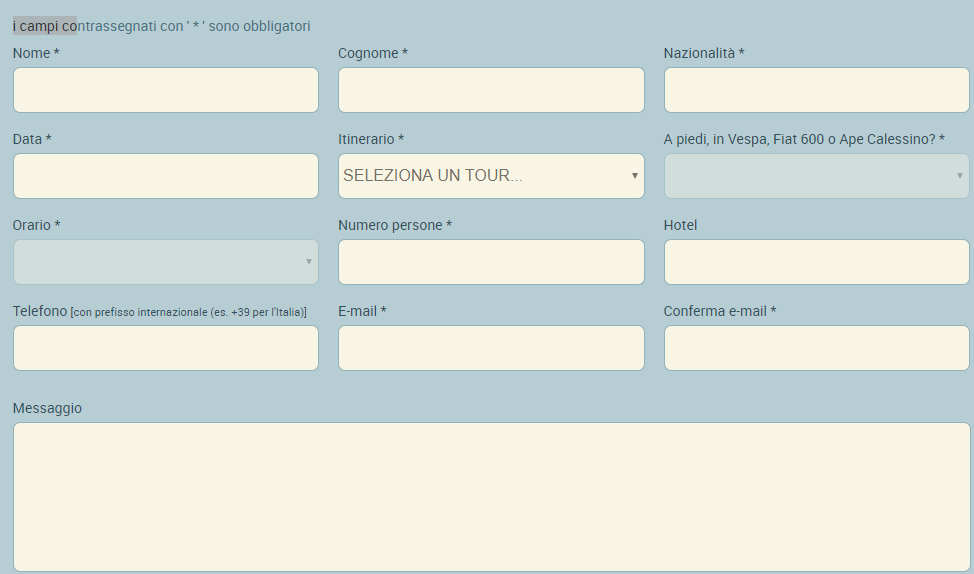 COME OTTENERE LO SCONTO 
Semplice: se non hai già i  350 crediti necessari, acquista uno dei nostri pacchetti  cliccando sul taso arancione "Scarica Coupon", in fondo alla pagina. Una volta acquistati i 350 crediti, riceverai subito il codice sconto sia qui sul nostro marketpace che via mail (controlla sempre anche cartella spam).
A quel punto non dovrai fare altro che andare sul sito http://www.napolinvespa.it , specificando:
tipo di offerta
nome, congome
data
Codice Coupon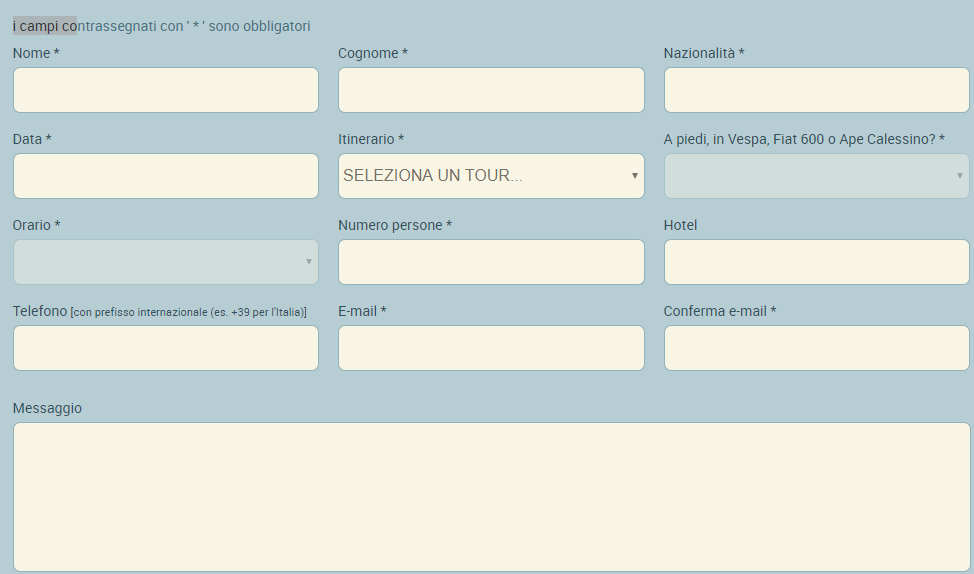 Per lasciare una recensione devi essere loggato
Accedi o registrati con un click con i tuoi social:
Se conosci username e password: