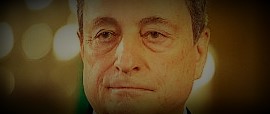 Many Italian citizens ask ourselves if the European court of human rights is starting to deal with the very serious Italian question, with the draconian provisions of the green pass that split society, discriminating against citizens who, while not committing any crime by choosing not to get vaccinated, have been expelled, violently, from social life.
Europe should not underestimate what, in the perspective of authoritarian and illegal measures, Italy is committing, just as society would never underestimate a person with very serious criminal precedents. Well, we remind Europe that Italy is the owner in Europe of the invention of Fascism, it was the teacher and precursor of Hitler as well as of Franco, as of Ceaușescu and other splendid students.
Mr. Draghi, a former board member of Goldmann Sachs, a bank that had sold toxic securities , caused the US housing bubble to swell and burst, triggering the 2008 crisis (how many deaths did the 2008 crisis cause?), A man who has been defined by a President of the Italian Republic, President Francesco Cossiga, who was among the leaders of the anti-Soviet paramilitary network GLADIO, as a liquidator of the Italian public industry, to recall here only the most delicious thing he said about him, well this Interim premier, not elected by anyone, not expressed by any party, but descended from the top of international finance, is trampling on the Constitution using emergency powers that are not themselves legal as they are not contemplated by the Constitution.
Today in Italy a citizen, to whom no law requires to be vaccinated, and who therefore does not commit any crime if he does not vaccinate, if he does not have a green pass, which can only be obtained by vaccinating or getting swabs every 3 days that cost a lot, not he can no longer travel, he cannot enter schools to recover or bring his children, he cannot enter museums, cinemas, he cannot go to work, he cannot cross the territory on public transport, he cannot have dinner in a restaurant. While continuing to pay taxes even if he is not vaccinated, however, he is excluded from a huge set of rights if he does not take the green pass and to do so he must be vaccinated even if no law obliges him to do so. it is blackmail, extortion, a huge abuse of power. Doctors and teachers are exempted from the service if they do not have the green pass even though they do not commit any crime by not vaccinating themselves.
A huge part of citizens are increasingly tired and nervous, of what is a situation of daily provocation, and obviously this ever higher tension could become the soup of violence and social turmoil. Many observers try to understand the strategy of this contempt for the Constitution. Meanwhile, the Italian mainstream press is all in the hands of impure publishers, extremely involved with the power from which they hope to receive a lot of fees for publishing and other favors. The Italian press does not work for the voters, but shamelessly serves the elected, exactly the opposite of what the American Supreme Court said when, judging the Pentagon's case against the New York Times, it clearly explained what the duty of the press should be, to serve the people and not the representatives.
In Italy, where a state of emergency has been in force for two years with the suspension of parliament, Draghi and the government have blatantly violated the European directives which required absolutely not to discriminate against citizens who had chosen not to get vaccinated, but also those who, for example, they are vaccinated with foreign vaccines not authorized by the EMA but used by the WHO in the world vaccination plan, however, such as sputnik, and have created a real pseudo-sanitary apartheid by instituting with the measure of a green pass that far from being the passport it was supposed to be, it became the identity card of vaccine Arianism.
Hundreds of lawyers, over 100 today only in the court of Naples, jurists such as Ugo Mattei, university professors such as historians Alessandro Barbero and Luciano Canfora, or world-famous philosphophers such as Agamben and Cacciari, are arguing against the unconstitutionality of this regime of apartheid, over 1000 university professors, among them the mathematician Paolo Gibilisco, signed a document against these provisions that violate the fundamental articles of the constitution, such as the third article of the Constitution which guarantees absolute equality for every citizen, thousands of university students have formed an association for the defense of the constitution, but the press of the regime every day ridicules and demonizes them, even if until yesterday they were its cultural heroes.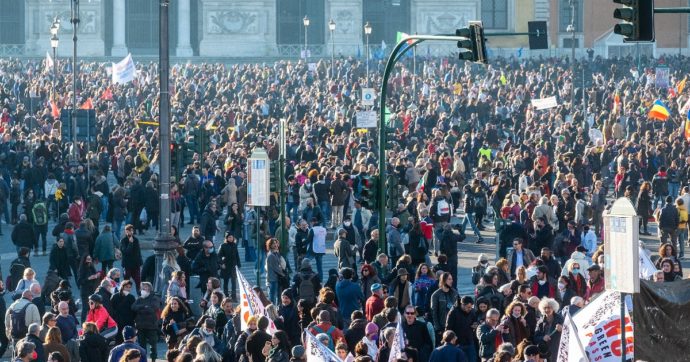 Even senior police officers, do we realize what a serious sign? as deputy deputy commissioner Nandra Nunzia Alessandra Schilirò, who, risking serious disciplinary measures ,that have already been started, took the floor against the government at the demonstration in Rome against the green pass on 25 September, where there were at least 50 thousand people, are showing signs of very serious malaise in the face of the provocation of an absolutely unconstitutional segregation such as the green pass, which is extended to every aspect of social life and which also affects thousands of representatives of the police and the armed forces. Can a head of government call himself a wise ruler when he throws society into a state of almost civil strife? we ask the European Court of Human Rights and the European press.
If Europe does not want to be once again intoxicated by the Italian political poisons, which 70 years ago ignited the process that then through Hitler led to the second great European self-destruction, as the founders of Europe such as Ernesto Rossi, Carlo Rosselli wrote, Nicola Chiaromonte and many others, it is good that Europe takes care of putting a stop to the Hybris of banker Draghi, and that the European press comes to the rescue of the Italian Constitution, betrayed by the Italian regime press.
Hurry up, the situation is seriously deteriorating.
Sorry this awful english but this is not literature, it is an SOS request.
ALL MY PANDEMIC ARTICLES IN CHRONOLOGICAL ORDER
2 marzo 2020 Coronavirus – Lo stato delle cose
7 marzo 2020 Coronavirus, i punti fragili nella difesa dalla contaminazione
28 marzo 2020 La Russia invia aiuti, "La Stampa" di Molinari la oltraggia. La risposta dell'Ambasciatore Razov
30 marzo 2020 Coronavirus: Necessario nuovo "Processo di Norimberga"
4 aprile 2020 Ursula Von der Leyen: Europe has burnt 3 trillion in military spending in 10 years but we are attacked by a Covid19
17 aprile 2020 Impreparazione alla pandemia: chi ha sbagliato? Alla ricerca dei colpevoli…Coronavirus: un reporter-artista in conversazione "speciale" col Prof. Giovanni Rezza, Direttore Reparto Malattie Infettive Istituto Superiore Sanità italiano – LaVoce di New York
22 aprile 2020 Prove tecniche di Dittatura? Voci off di Giuristi,filosofi e cittadini sovrani
27 aprile 2020 Fase 2 "permettiamo i funerali"- Potere Esecutivo in delirio
29 aprile 2020 Pandemia e analfabetismo funzionale. Contagio e Cultura
1° maggio 2020 Coronavirus, fase 2: ora gioca la responsabilità individuale
2 maggio 2020 Reductio ad agguatum, Nadia Urbinati & Co. e il Manifesto pro Conte
2 ottobre 2020 Movida e Covid19: fermatela subito o avremo una seconda ondata devastante!
30 ottobre 2020 Terapie intensive insufficienti ma 14 miliardi di euro sono per i 90 cacciabombardieri F35. A che gioco giocate?
4 dicembre 2020 Il libro sparito del Ministro Speranza è censura di Stato, distopia orwelliana.
4 dicembre 2020 Welcome to dystopian Italy: the Minister of Health Roberto Speranza's missing book
16 dicembre 2020 Roberto Speranza, MiBACT scrive: libro non ritirato a norma di legge 633 del 1941
21 dicembre 2020 Lettera alla Giangiacomo Feltrinelli Editore sul libro del ministro Speranza
22 dicembre 2020 Nel Libro di Roberto Speranza il Piano Pandemico non è mai citato. Forse perché non sapeva cosa fosse.
28 maggio 2021 "Sputnik V ecco perché io italiano mi sono vaccinato a Mosca. EMA ancora non lo autorizza, basta ostracismi geopolitici"
17 giugno 2021 Stato di Emergenza e Dittatura.
26 luglio 2021 I No Lex di Mario Draghi che stanno portando il paese nei torbidi
29 luglio 2021 Lettera al Presidente Draghi da un Apolide Sanitario che si prepara a resistenza e Galera.
29 luglio 2021 Presidente Mattarella non è il virus che attenta alla libertà ma i criminali nelle istituzioni che non hanno mai attuato il Piano Pandemico
9 agosto 2021 Green pass obbligatorio analisi politico-giuridica delle dimissioni di Fabrizio Masucci
6 settembre 2021 Luciano Canfora sul green pass "vergognoso tentativo coercitivo in atto"
24 settembre 2021 Lettera agli studenti contro il green pass riflessioni per la difesa dello stato di diritto
27 settembre 2021 OMS torbida e preda del potere degli Stati, il libro del whistleblower Francesco Zambon
29 settembre 2021 Europe pay attention to what is happening in Italy, because it is a serious threat to your freedom.
12 Ottobre 2021 CGIL Ministero degli Interni, Non aver fermato i fascisti è come averli mandati
Seguimi su Twitter CitizenFive
my twitter is CitizenFive ✪
Potrebbe piacerti anche
---
Consigliati dall'editore
---